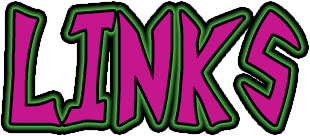 Buttons for linking back, if you'd like!

Links to other fansites, fanprojects, and general cool Zim stuff.

Professionals Who've Worked on Invader Zim Properties:

Places to buy Zim merch! Including requisite Hot Topic link of course. I'm not linking to Amazon itself because it's a crapshoot whether what you're getting there is even licensed merch, but I'm linking to the Invader Zim art book and the script book Eric Trueheart released. Those are neat.